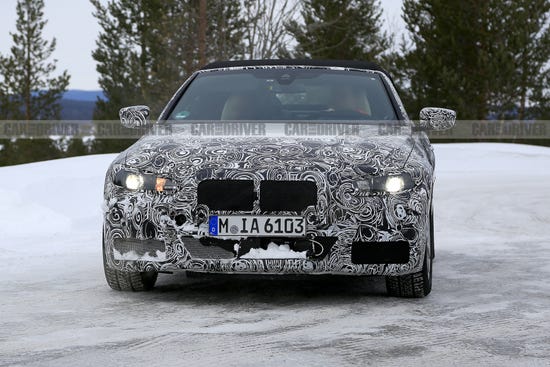 (Photo Credit: Brian Williams, Car and Driver)
Over the past few months, images of a camouflaged 2020 4 Series have been surfacing on various sites across the internet. While BMW remains predictably hushed on the subject, that hasn't stopped a number of bloggers from trying their hand at predicting everything from features, to price, to release date. Of course it's all still speculation at this point, but one thing that appears to be certain is a new fabric top for the convertible. Replacing the folding hard top, the soft top disappears completely into the trunk, allowing for an ultra-clean look during favorable summer weather.
Car and Driver released several close-up shots of the front and rear fascia. Identifying details and styling cues are obscured by the camouflage, but the stowable soft top is clear as day. And, while those photos were clearly taken in the winter months, Autoblog recently released some photos showing the soft top completely removed. The cover under which it's stowed is almost imperceptible.
As it is essentially the coupe version of the 3 Series, the 2020 4 Series is expected to sport the same powertrain as the 3 Series, as has been the case in years past. The latest 3 Series is powered by a standard 2.0-liter turbocharged inline-4 engine that generates 255 horsepower and 295 pound-feet of torque, so it's probable the base 4 Series will feature the same.
The 2020 4 Series is expected to show up later this year, though some have speculated we may have to wait for the following model year for the convertible version. Either way, we're excited to see what BMW has in store for us, and we'll be keeping an eye out for more information as it comes up. In the meantime, if you'd like to learn more about any of the current BMW models, we invite you to look through our inventory here on our website, or come visit us in person in Orange Park. We'd love to show you around.
sources:
https://www.autoblog.com/2019/04/18/2020-bmw-4-series-convertible-spy-shots/
https://www.caranddriver.com/news/a27047004/bmw-4-series-convertible-2021-spied/
https://www.motor1.com/news/315302/2020-bmw-4-series-convertible-spied/