Tom Bush is an authorized Dinan Dealer
Dinan® is well established as North America's premiere BMW tuner. Dinan develops, manufactures and markets a comprehensive line of high performance products and systems.
Dinan's industry leading warranty program, quality products and solid engineering have helped to make Dinan an almost household word among BMW driving enthusiasts. Road tests conducted by major automotive enthusiast publications over the last 30 years place Dinan enhanced BMWs on a performance level with some of the most exotic sports cars in the world. At the same time, Dinan enhanced BMWs are widely renowned for being civilized and reliable, providing a high performance BMW-like driving experience without equal.Dinan's comprehensive warranty program, introduced in 1996 with the cooperation of BMW of North America, provides BMW owners with matching coverage to that offered by BMW's new car warranty, ensuring that Dinan performance enhancements and the BMW they have been installed in are covered for up to 4 years or 50,000 miles. BMW automobiles can now be performance-tuned without the associated concern of negatively affecting the new car warranty coverage, making the idea of enhanced driving fun and excitement appealing to a rapidly growing number of BMW drivers.
Dinan® Performance Products and Signature Series Programs
Dinan offers a broad range of BMW performance products from engine, driveline and chassis tuning components to complete Dinan Signature Vehicles and special Factory Works programs. As a serious BMW Tuner, Dinan's objective is to offer complete performance solutions for the entire range of BMW models. We believe that every BMW driver deserves the opportunity to get the most from their car. From faster acceleration to improved cornering capabilites and stopping power, Dinan takes the guess-work out of creating the high performance BMW of the enthusiasts dreams with compete, balanced performance systems. A choice of several complete Signature Series programs are available for each BMW model in order to meet a broad range of performance requirements and budgets. In addition to stunning performance, you will also enjoy the exclusivity of owning a serial numbered Dinan Signature BMW, registered with both BMW and Dinan. A detailed description of the various Signature Series programs for each BMW model is available in the "Performance Products" section. 
FAQs
How do you get a DINAN
®
 badge on your car?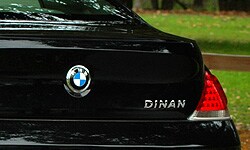 The Dinan badge cannot be purchased but rather it is provided at no charge when your Dinan performance product selections total 10 points, making your Dinan enhanced BMW as exclusive as it is exciting to drive. When your purchases qualify for the badge, simply contact us and we will assist you with the submission of the Dinan badge request form. Copies of the invoices verifying the purchase of the products will be required. The badge will be shipped directly to us on your behalf.
The following is a list of the point values for each Dinan® product and they are also included in the individual product descriptions:
Engine Software

2 points

Transmission Software

1 point

Free Flow Exhausts

3 points

Exhaust Header Systems

3 points

High Flow Intake Systems

3 points

High Flow Throttle Bodies

2 points

High Flow Air Mass Meters

3 points

Performance Cams

2 points

Supercharger Systems

10 points

Dinan® Performance Engines

10 points

Front Strut Tower Braces

2 points

Rear Shock Tower Braces

1 point

Dinan® Wheel Sets

5 points

Suspension Systems

5 points

Dinan® Brake Conversions

3 points

Differentials

2 points

Lightened Dual-Mass Flywheels

2 points

Short Shift Kits

1 point

Dinan® Pedal Pad Sets

1 point

Under Drive Crankshaft Pulley

1 point

High Capacity Oil Cooler

3 points

High Performance Intercooler

2 points

High Performance Bushing Kit

1 point

High Flow Intake Manifolds

2 points

Performance Pressure Plates

2 points

MINI Boost Upgrade Kit

4 points